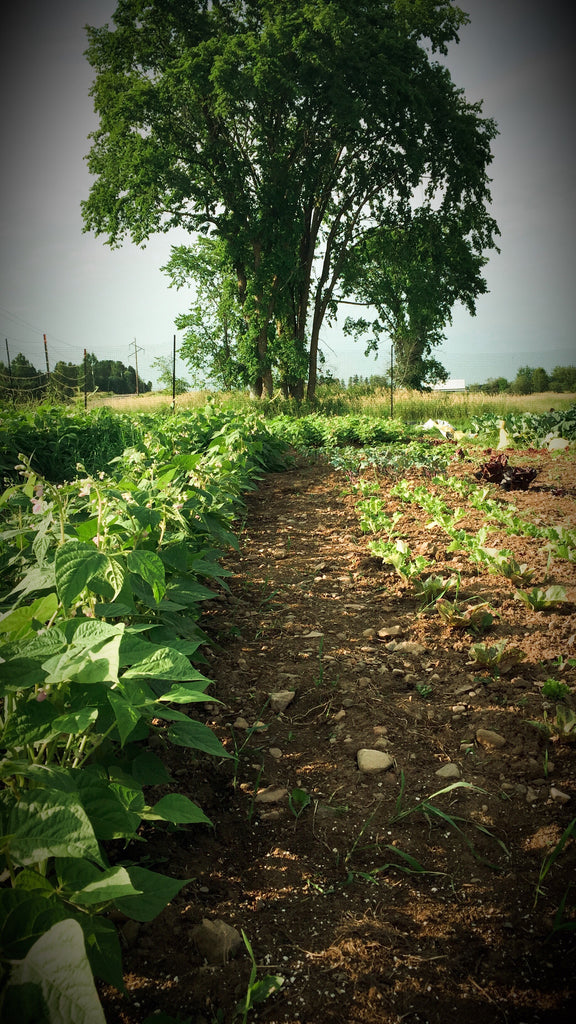 Hello everyone, and sorry for the long delay in updating you about the farm.  
Things have been going very well here at Small Wheel Farm.  We have had several successful farmer's markets and tomorrow's promises to be good too.  The produce keeps coming out of the fields, with new things ready every week.  Tomorrow's market will feature peas (everyone's favorite), herbs, rainbow chard, mini romaine, and a pint of cherry tomatoes for one lucky person!
As you can probably imagine, things have gotten rather busy around here as we are harvesting regularly as well as attempting to stay caught up with our planting schedule and ontop of all the weeds.  ...And the weeds are prolific this time of year.  I feel like every spare moment is being spent picking quack grass rhizomes out of the beds and making sure the lambs quarter doesn't go to seed.  Overall, we are winning, but oh, do the fields want to turn back to pasture.  It sounds weird, but I am grateful for plastic and being able to tarp large areas of our fields--smothering weeds while I work on something else.   So far this season, bugs haven't been much of a problem.  Besides a few potato bugs that munched the eggplant, the gardens have been pest free.
This last weekend we had another visitor.  My mom came and helped harvest, plant and work the farmers market booth.  It was nice having a second pair of hands to get the harvest done quickly.  I don't think that I would have gotten to the planting if it weren't for her help, and our mini greenhouse is bursting at the seams, with brassicas, lettuce, herbs and other vegetables that are waiting to get into the fields.  I am thankful to finally be harvesting the last of some things so that I can plant out new vegetables for later in the season.  This weekend we will be planting some of those brassicas where our romaine was.  Tarping off future fields is also on the schedule.  We are expanding next year!
Anyways, see you tomorrow at the market!
---