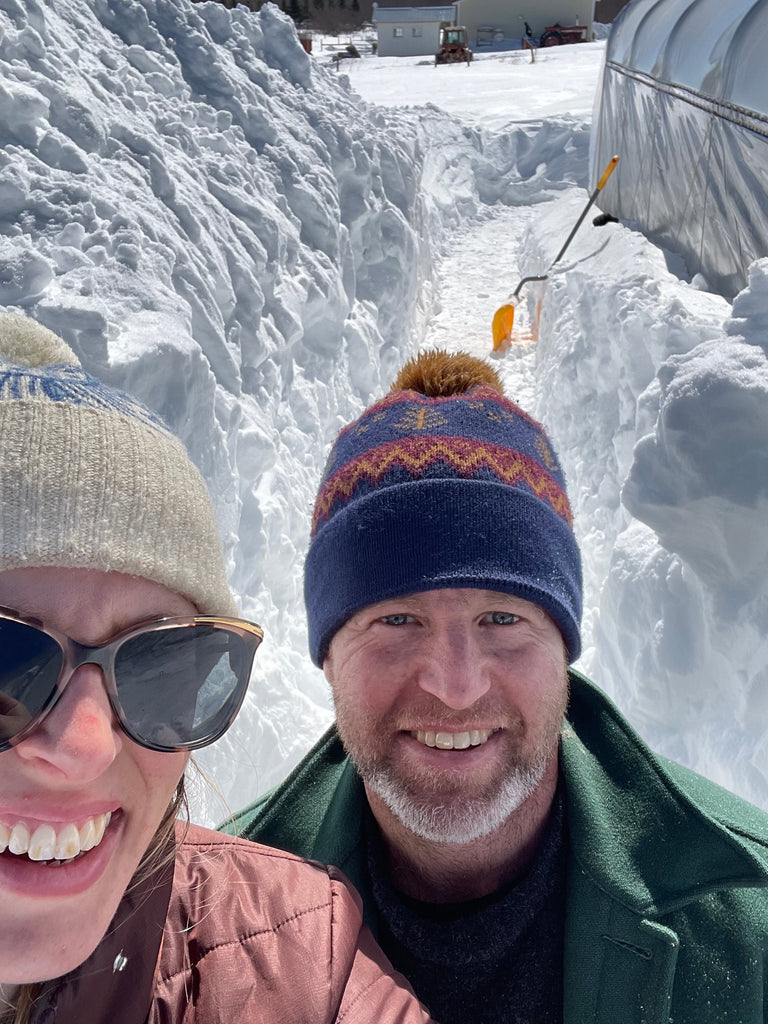 It seems that I'm always writing blog posts this time of year, and the weather situation seems to be a frequent topic of conversation.  I suppose it is because we get so busy come summer, and this time of year we are doing a lot of hoping and dreaming about the upcoming season, and are eager for it to start in earnest. Persistent wintry weather is in opposition to this desire and weighs heavy on our minds as farmers.
Indoors, the farm season has started.  There are many seedlings growing up under our LEDs, and we are hardening them off little by little in preparation for being planted out.  No rush there, however, given the state of affairs outside.  
This winter has given our high tunnel (and us) a workout this year.  About a month ago, Peter and I dug out a massive snow drift that blew up against the high tunnel, and now that it is actually time to plant, another even more ginormous snow drift has formed.  I can actually stand on top of it and see the house!
 According to my planting schedule, seedlings are to be planted inside the high tunnel now, but we decided to wait given this storm and some low temperatures later in the week.  I'm glad I did, because some of this snow ended up on the inside of the tunnel too--coming in through gaps with all that wind.  We will be spending some time this weekend shoveling some of the snow away from the sides, so that the bit that's accumulated on the roof has somewhere to fall off.  All considered though, the tunnel was a champ, and we didn't find any ripped plastic.
We might plant our earliest crops next week, and from there it is some finger crossing, hoping the melting snow doesn't create too much flooding.  Spring is on its way, and with it some fresh goodness.  We'll see you soon Duluth!