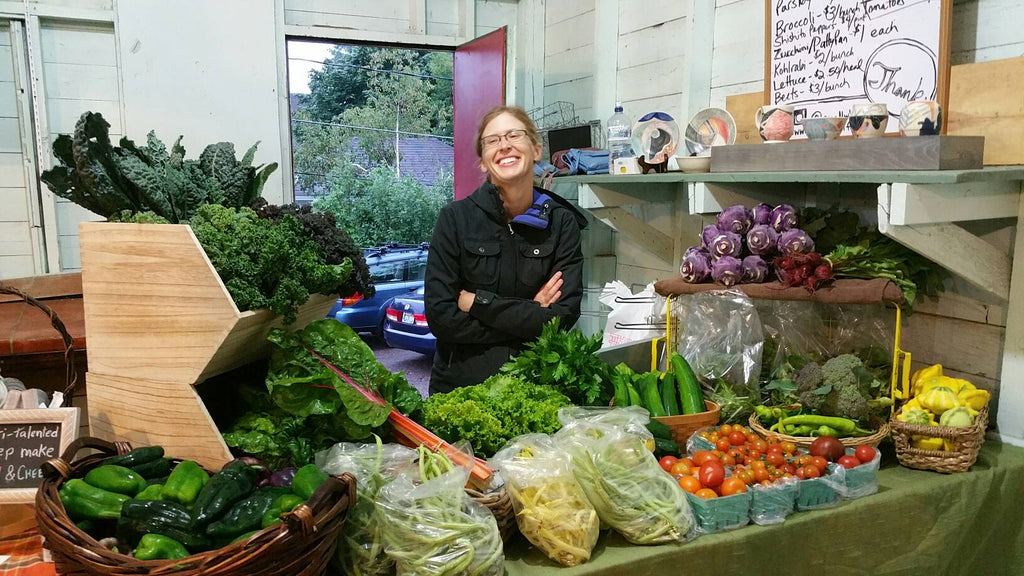 The farmer's market is closed for the season and our farm is once again covered in snow.  The clean white landscape certainly brings finality to the season—even if there are a few projects I need to wrap up before I can officially call it the end.  Like many farmers in the area, I wasn't prepared for the snow.  In fact, while others were being hard core—harvesting carrots and rutabaga during the storm, I wasn't even on the farm; now I must deal with the aftermath, accept that some things never made it out of the field, and hope that there is a warm up and that snow melts so I can get some equipment put away properly.
 Well, today I have been looking over my sales data so that I can give a recap of the season.  I never did do very well with my farm updates— (farm goals…I'll try to do better).  Anyways, I was happy with the first season.  We exceeded our sales goals, stayed healthy, and didn't work ourselves to death.  Next summer we can grow with confidence that we have the capacity and market to make it possible.
 So…some fun facts and numbers.  This first season I grew on .18 acres or 8000 square feet.  Everything was grown in the elements—no hoop houses were used to extend the season.  While the farm used occasional additional volunteer labor (thanks family!  You helped so much!), all vegetables were primarily grown, weeded, picked and sold by one person (yours truly).  I sold 219 pounds of beans, 1,033 summer squash, and over 250 pounds of tomatoes (preserving many more for home use).  Additionally, I sold many kale, kohlrabi, turnips, broccoli, peppers, and bags of greens.  We are pretty much out of veggies at this point.  Those things we had in severe excess got canned, otherwise they mostly sold at market a bit over a week ago—not too much end of season waste on this farm. Vegetables left in stock: about 70 spaghetti squash currently residing in the dining room.  Please let us know if you are interested in some.  At this time, we are planning on eating at least one a week until we are out, but we are happy for some more to find homes.
I will leave this post with a nice picture my sister took of me at the farmer's market during peak season.  Also, best wishes for a fun filled winter.  Don't forget to play in the snow!...  I don't know about you, but I am looking forward to skiing and studio time and more time with friends.  I will see you at the Duluth Farmer's Market again next spring!  Until then, check back for art making updates, winter adventures, farm plans and improvements (We will probably be doing CSA next year), and maybe some recipes.  Best wishes!
---